3C Principle for winning in sales and life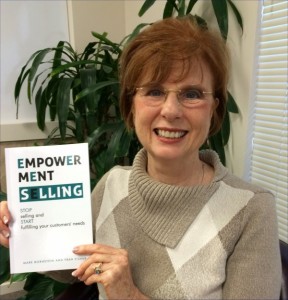 Announcing my NEW published BOOK! Empowerment Selling is a captivating story that's not just written for sales people. It's a business parable about how to lead our lives in all relationship situations.
The story revolves around the 3 C Principle: Connect, Clarify, and Cultivate – The coaching approach to sales.
By employing these actions on a daily basis we can have a profound positive effect on the life of others, and in turn our own.
Available in E-book and Paperback on
Fran Fisher and Mark Bornstein have managed to create a book on sales that is for people who hate sales. I love this book and highly recommend it to anyone, whether they are in business or just wanting to create more win/win relationships. Justin Blaney.
How do you engage a prospect in a meaningful conversation about satisfying their needs without coming across as overbearing or manipulative? Empowerment Selling presents a powerful framework for professionals who detest the thought of coercing and convincing prospects to buy. Their book is a quick read with easy, actionable ideas to convert prospects into clients and build long-lasting relationships.  Berry Zimmerman, Founder, www.giftedreferrals.com
The 3C Principle
Connect
Start by asking your clients: "What is the one thing I can help you with today?"
Be service oriented versus sales focused
Be caring and fully present; LISTEN deeply
Be considerate of the client's agenda, not mine
Be a collaborative partner
Be committed to the quality of the relationship 
Clarify
Ask: "What is most important and best for you?"
Support the client in identifying what is best for them
Assist the client is clearing the barriers to what they need
Explore options and generate possibilities
Empower the client's decision-making process
Acknowledge and respect their choices
Cultivate
Ask "How can I continue to support your success?"
Facilitate the client:  what/when/how they will proceed
Reinforce the value of the relationship
Plant seeds for continuing the relationship
Trust in the process/outcome (I + A = M)
Acknowledge the client
Order on Amazon