Programs
We offer comprehensive coaching and consulting programs for individuals and groups, both in the corporate and non-profit sectors.
The programs we offer are focused on leadership and personal transformation.
Living Your Vision® Programs

Description: For individuals or small groups, this highly experiential process is for professionals who want a personally customized, comprehensive focus on their leadership development from the inside out; and who are ready to break through to the next level of productivity and personal fulfillment.
Living Your Vision® for Leaders*
Living Your Vision® for Groups

Online Coaching Programs
---
ONE-ON-ONE COACHING
Description
Executives and entrepreneurs engage my one-on-one coaching services for a variety of reasons. The most common areas of client focus include:
Enhanced leadership capabilities
Increased focus and clarity of direction
Enhancing performance effectiveness
Increasing creativity and innovative thinking
Deepening personal and professional satisfaction and fulfillment
What's Included
One-on-One coaching is customized and created in partnership with the client. For example, some of my offerings include:
On site shadowing: I observe my client's behavior in situations such as a business meeting, etc., and work with the client to enhance strengths displayed as well as identify areas for improvement.
Phone coaching: Weekly, bi-weekly, or monthly
The Core Values IndexTM assessment (CVI) cracks the code on revealing your innate unchanging nature.  With over 97% repeat score reliability, business and organizations have been using the CVI to increase performance and profitability because it helps them put the right people in the right seat, doing the right work.Benefits for you:

New level of self-awareness, taking yourself to your highest and best
Greater access and leverage for your innate strengths and capacities
Achieving more satisfying outcomes and results
---
COACHING FOR COLLABORATIVE WORK TEAMS (WORKSHOPS AND RETREATS)
For organizations that want to enhance team effectiveness and transform their culture. For both corporate and non-profit organizations.
Description
This highly interactive coaching program treats teams as living systems, honoring their unique strengths, issues and developmental needs to support the team in fulfilling its mandate through:
Building a safe, trusting team environment
Conversations that confront difficult issues, positively
Alignment of vision and purpose
Values visible in team behaviors
Clear goals and accountability
Inspired and shared Leadership
Creativity and innovative thinking
What's Included
All programs are customized and created in partnership with our clients to complement and encompass existing development initiatives.
---
360 PROCESS FEEDBACK – THE COACHING APPROACH
Description
For leaders and professionals. In-person survey process for clarifying leadership strengths and areas for development. Defines specific behavioral changes that will enable full actualization of the leader's potential.
The coaching approach to 360 Process Feedback goes beyond the off-the-shelf, check-the-box format. The coach, through inquiry, explores for underlying meaning and greater specific detail, capturing nuances that a quantitative instrument cannot. The feedback is then synthesized by the coach, who then will provide a detailed assessment of strengths and areas for improvement.
What's Included
Coach meets with 8-10 key participants for confidential one-on-one in–person survey. These conversations link survey questions to the leader's competencies and alignment with company values.
Feedback session for the leader and planning session for moving forward on new development focus areas.
Follow up coaching is available and can be included in the package.
---
Description
For leaders in your organization. A whole-systems approach for identifying and further developing leadership talents and capabilities. Grounded in your corporate culture and issues that your leaders are currently facing. Leaders will develop purposeful leadership that will best serve your organization.
What's Included
Customized six-session modular program, typically lasting 1.5 – 2-days each, spaced 6- 8 weeks apart
Brief survey of each participant to provide input to the content of the program, ensuring the spirit of co-leadership and partnering
Open, supportive environment that supports discovery and risk taking
Whole-systems approach to the learning process, integrating the three circles of Leadership Wisdom:
Mind – beliefs, attitudes, theories, assumptions, structure, knowledge, skills
Body – presence, energy, physicality, sensations, sensing, fitness, emotions
Spirit – self esteem, intuition, vision, purpose, values, heart, authenticity
---
LIVING YOUR VISION® PROGRAMS
Description
For individuals or small groups, this highly experiential process is for professionals who want a personally customized, comprehensive focus on their leadership development from the inside out; and who are ready to break through to the next level of productivity and personal fulfillment.
---
Living Your Vision® Program for Leaders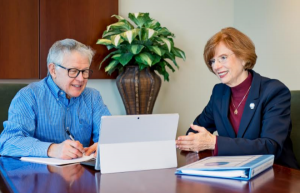 The most experienced and influential leaders reach a stage of life where they have the freedom to focus on fulfilling their own life purpose, achieving optimal effectiveness and building a meaningful legacy.
LYV provides a confidential, custom-designed, transformational process to:
Re-invent yourself and re-energize
Call forth your innate greatness
Achieve a greater sense of vitality
Move to a higher purpose for meaningful influence
Enjoy deeper personal and professional fulfillment
Today, the media is filled with stories about how admired leaders made personal and career changes to live more true to their definition of a meaningful life: Sheryl Sandberg, creating an authentic and fulfilling life; Marshall Goldsmith, modeling a life and business focus on what matters most; Arianna Huffington, defining "well- being" as her definition of success.
Knowing others is intelligence; knowing yourself is true wisdom. Mastering others is strength; mastering yourself is true power.  – Lao-Tzu
We focus on:
Eliminating unneeded stress
Clearing obstacles/limitations
Accessing your innate wisdom
Unleashing your authentic power
Discovering "what's next"
Experiencing more freedom, ease and flow in your life/work
I believe who we are as leaders is being challenged by unprecedented changes in our environments to access the full expression of our gifts, strengths, and creativity in shaping a vital new sustainable world for today and future generations.
How well are you facing the unprecedented challenges in your world today?
Are you ready to be encouraged, inspired, and revitalized for greater fulfillment?
The same principles for leading apply to us in all areas of our life—family, community, business, ourselves—it's all about living our life congruent with our principles, beliefs, and character.  – Kevin Cashman, Leadership from the Inside Out
Living Your Vision is built on the premise that clarity, balance, and fulfillment can only be found by understanding who you are at your core.
This is an "inside out" process based on concepts that are reinforced by Internationally renowned authors such as:
LYV Testimonials
"My business tripled while working with Fran. My success has given me a sense of peace I had not expected." ~D.S., Director of Sales, San Francisco, California
"Fran's greatest strength is in assisting her clients with discovering their vision and values.  She delights in helping clients "become who they are," and relocate their locus of control from the outer world to their own inner authority.  I am in awe of her ability to zero in on the essential." ~G.T., MD, PhD Seattle, Washington
"My leadership performance and career potential is rising, thanks to your accurate assessment of my performance gaps and your skillful partnership in helping me prioritize, develop, and implement new habits and behaviors. I am already experiencing less stress; I am raising my own standards of quality and service in my output and timelines. And, I can see this is just the beginning!" ~B. D., VP Finance, Seattle, Washington
"The Living Your Vision methodology is timely, complete, and instantly useful."  ~ W.S., President, IT Consulting Firm, San Mateo, California
"What I valued most about my LYV experience: – safety and non-judgment – My vision/purpose statement …and how it came about – Getting in touch with my inner self and expressing it – Discovering my integrity, my gifts, other ways of being that are helping me be a better person." ~D.B., CFO Palo Alto, California
---
Living Your Vision® Program for Groups
Individuals, managers, supervisors, and professionals who are ready to break through to the next level of personal and professional productivity and fulfillment. This program is ideal for intact work groups or teams, especially for deepening trust and connections and enhancing synergy.
Clients experience personal and professional breakthroughs:
Personal transformation as you shift mental models.
Deepened alignment with purpose.
Increased clarity of vision and values.
Participants have reported increased courage and confidence, accountability, performance, and ability to influence others, as well as improved communication skills, creative thinking, and problem solving abilities. Teams become more clear and more aligned on vision, mission, values and strategies.
What's Included
Core Values Index (CVI) assessment
20-30 hours of an intensive workshop of 4-20 participants and development of the foundation for their individual MasterPlan.
Optional to include the development of the team vision, mission, and values
12 follow-on group teleconference coaching sessions are 60 minutes each and held bi-weekly.
---